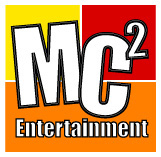 Quality Productions at Affordable Prices!
That's the MC2 Entertainment Guarantee!!
Our shows have had great box-office success!

Our affordable royalties will help your theatre keep production costs at a manageable level!

Our shows will attract audiences of all ages!
Our newest production. Based on the Reader's Digest story, "The Ivory and Gold Tablecloth."

A musical about life's little annoyances.

Based on the book by Marc Brown, "Arthur's Halloween," it's an original musical for the whole family.

Five strangers are stranded in a small-town diner on a blustery Christmas Eve.

A happy retelling of the classic tale with an infectious, lighthearted array of delightful songs.

The Charlotte Bronte masterpiece in all its Victorian splendor, brought to life with a rich, haunting score.
*Book by David Matthews

Based on the book by L. Frank Baum, "The Life and Adventures of Santa Claus," it's a joyous holiday musical treat for the entire family.

A selection of interactive murder mystery plays to entertain and involve dinner theater guests.