About Us
MC2 Entertainment
Michael Malthaner - Composer/Lyricist
Michael recently retired as the Director of the McDowell Center for the Performing Arts after teaching music education, choral music, music theory, and musical theatre for thirty-five years. He earned both his Bachelor and Master degrees in Music Education. His credits include conducting, accompanying, directing, or performing in more than 150 different productions.
Michael has been an arts education ambassador to Zibo, China, a sister city to Erie, PA, on a mission advocating school arts curriculum. He continues to volunteer in local community theatres and is also the music director for Sacred Heart Church in Erie, PA.
Michael is very humbled to have been named a Pennsylvania State Teacher of the Year Finalist in Harrisburg, PA in 2010 and was recognized for his work with young people as an educator and as a musician. He is also the recipient of such awards as: The Golden Apple, Erie Legend Award for Music Composition, Hall of Flame Award for Arts, Hometown Hero Award, MIHS Teacher of the Year, and Who's Who Among American Educators.
Michael is married to a very talented lady, Jean, who is also very active in the local community theatres as an actress, singer, and dancer. She is a fourth grade teacher at Grandview Elementary in Millcreek, PA. She is also very active at Sacred Heart Church.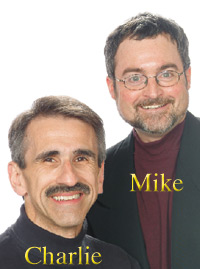 Email: mike@mc2entertainment.com

Charles Corritore - Lyricist/Librettist

Charlie has been active in community theatre for over 50 years. During that time, he has worn many hats—actor, director, choreographer, producer & writer. In addition, his theatrical background also included a professional stint as assistant to John Kenley at the famed Kenley Players Summer Theatre in Warren, Ohio. In 1989, he started "Mayhem, Inc." an interactive murder mystery troupe for which he wrote 15 performance pieces which entertained thousands of patrons until he retired the troupe in 2004. These murder mysteries are now a part of the MC2 Entertainment catalogue and continue to be performed all over the country.

Since 1974, Charlie has been a staff member of the Erie Playhouse, the third oldest community theatre in the country. As Business Manager, he is responsible for overseeing the theatre's $1M+ annual budget.

Email: charlie@mc2entertainment.com
---
Michael and Charlie use their many years of experience and knowledge to create shows that inspire their audiences through artistic books, music, and lyrics. They are proud of the fact that every one of the MC2Entertainment shows have been produced and carefully evaluated. Their catalog contains successful and proven shows that are a fine addition to any theatre season.